Buying A Home In Today's Real Estate Market In Fort Worth
Posted by David Pannell on Monday, March 12, 2018 at 3:23 PM
By David Pannell / March 12, 2018
Comment
Buying a Home in Today's Market-Tips and Tricks!


You've decided to buy your own home! How exciting! But now what.. Where do I start? Who do I talk to? Can I start looking now? Do I need a Realtor? These are just FEW of the many questions most people have when it comes to buying a home, especially for the first time. Reality is that yes, a little leg work will need to take place before heading down the path of purchasing a beautiful home of your dreams. But that doesn't mean that it has to be stressful, time consuming, or daunting of a task as people may think. Below I would like to share some simple tips and tricks to get the ball rolling down a path of making dreams into reality. Download HERE: Home Buyer Guide


Be a Smart Home Searcher


As a real estate professional I always highly recommend/ insist that the prospective buyer consistently search on their own time through the most common real estate web searches. As you begin to make a list of homes that you love take some time to make the drive and check out the neighborhood. You'll likely be able to eliminate several based off location alone which results in you spending more quality time in the homes that you love. And when teamed up with an awesome Realtor (which we will get to in a bit), the combined search results can be amazingly efficient. Even people who AREN'T looking to buy a home in the near future cant seem to stay off the real estate web sites window shopping, so as a buyer yourself this one should be a no brainer. But I still feel like its worth mentioning! When effectively trying to buy a home in todays super fast paced market, traditional ways of finding homes like driving around looking for signs in yards or combing the newspaper and Craigslist simply isn't going to cut it. More importantly, majority of the best deals you won't even see available online! Download HERE: Home Buyer Guide


Choose the Right Help


It's no secret that everyone knows someone with a real estate license these days. Whether its close friend, or your brother-in-law's nephews sister. But there are still important questions to ask yourself when choosing who to embark upon this journey with. The interaction between an agent and a client can be very close at times! There is a ton of communication back and forth and lots of meeting up in the beginning to see houses. It doesn't matter what company name they have on their name tag, or to a degree how many years they have been in the business. But it has everything to do with who do you and your family feel the absolute most comfortable around, and who do you feel deep down in your gut truly cares, puts your needs ahead of theirs, and will do everything possible to get you the best results imaginable. Always go local. If your dream is to live in Bedford, it's not likely an agent primarily out of Dallas County will be of much assistance. Anyone with a license can open up a door for you. But someone who works lives and grew up in the area naturally will be able to better navigate you and your family around town. After a great experience of purchasing that first home, I can almost guarantee you will have a Realtor for life. Download HERE: Home Buyer Guide


Don't Get Discouraged, There are Plenty of Great Buys


Just as with most other markets in the sales world, there is always a chance for potential buyers and sellers to experience ups and downs, problems with supply and demand, or in this case the oh so intimidating "sellers market" or "buyers market". But if you are serious about buying then none of these factors should hinder you from making it happen. It is important to realize upon starting that yes, you likely will love a house and not have your offer accepted. New buyers naturally go through extreme highs and lows emotionally when submitting offers on homes. Total jubilation when finding that home and submitting an offer, only to reach the polar opposite feeling when you finding out you did not come out the winning side of a multiple offer situation. So it is very important to remember to keep your head held high, and remember just as good ones slip out from under you that a new really awesome place is coming available. An experienced Realtor will have access to homes being listed For Sale by Owner (FSBO), listings that expired, cancelled, builders who need inventory gone quickly, or even foreclosure properties. Almost all of these you will NOT be able to find on the most popular real estate sites. It is a simple matter of knowing where to look. If the Real Estate agent helping you has not mentioned or offered these types of properties, just buckle up tight cause the ride could be longer than it needs to be. Download HERE: Home Buyer Guide


Gameplan


You and your family have talked and can envision the perfect home in the perfect location. But you need a game plan on how to get there. As mentioned above, anyone with a license can open up doors for you. But It is of HUGE value and benefit to you as a buyer to take a few minutes to meet and sit down with your Realtor and lay out the exact path to take. Not only will you know exactly what to expect moving forward, but you can talk about things like how the buying process works, schedules, when is the best time to look at houses, and collaborate with your lender to be on same page about the pre approval. If you have not taken that step of being approved yet then you can make that phone call together and have someone in your corner the entire way. Again, the high and excitement of finding a home can sometimes cause families to look too early without a game plan. Work as a team and know exactly what it takes to get where you want to be. Download HERE: Home Buyer Guide
Watch Our Video: Click the Image Below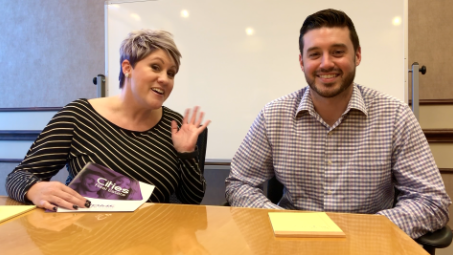 Download HERE: Home Buyer Guide
So lets recap! Be a smart home searcher. If time allows always take time to first drive by and preview houses that you are excited about. Spend the most quality time in the homes that you love. Choosing the right help can be crucial. Go with a local agent that is familiar with the area and that you feel absolutely comfortable around. Make sure you ask about off market properties. Its a fast paced market out there! Getting access to properties that you will not find online will help you beat the competition and avoid the dreaded bidding war process. Don't get discouraged, even if an offer or two of yours does not get accepted. Regroup wth your Realtor, assess the situation thus far, and adjust. As great houses get scooped up new ones always will come available. And have a rock solid game plan moving forward. Trying to do it by yourself or simply having multiple realtors open up doors for you will not get you the house of your dreams in the quickest amount of time with the least about of hassle. Whether you are thinking about selling and or buying it truly is a great time to take advantage of doing so.