Hugh Parmer – Fort Worth Former Mayor and Native Son Dies at Age 80
Posted by David Pannell on Monday, June 1, 2020 at 6:46 PM
By David Pannell / June 1, 2020
Comment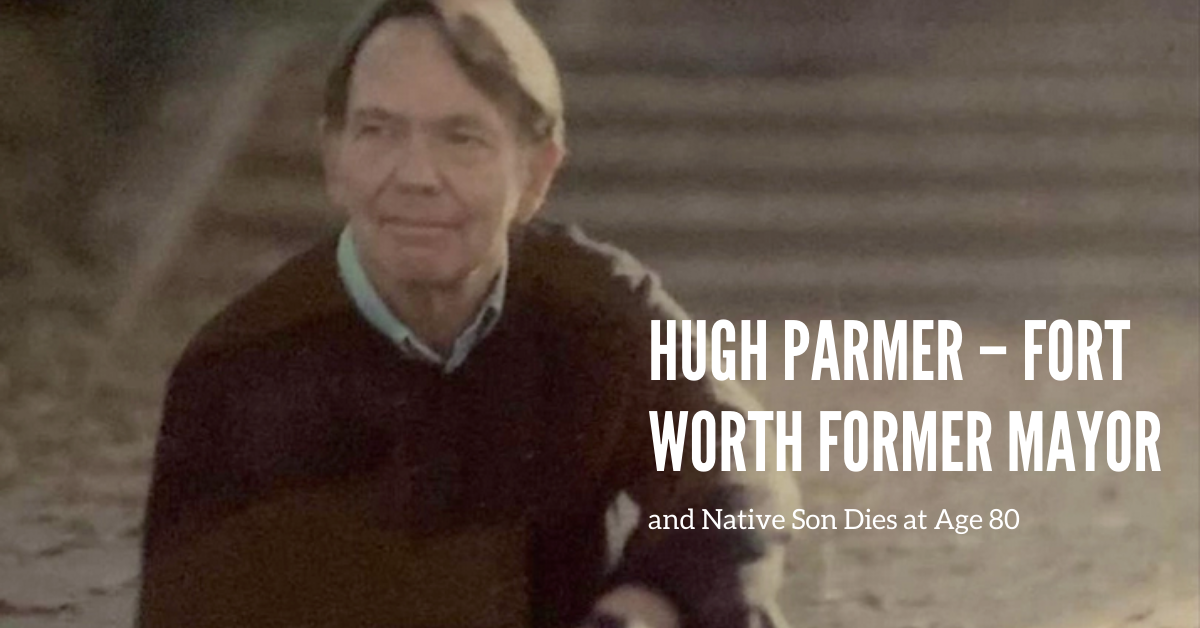 Former Mayor and Fort Worth native son Hugh Parmer died on May 27, 2020 at the age of 80. We here at Cities Real Estate are saddened by the loss of the "boy mayor" -- as Mr. Parmer was known back in 1977 when he was elected as the youngest person to hold the office in Fort Worth. He was just 38 years old and served our great city from 1977 to 1979.
Turns out, Hugh Parmer earned the title of youngest politician twice.
Before he became Mayor of Fort Worth, he was the youngest person to be elected to the Texas State House of Representatives at age 23. He served from 1963 to 1965. He went on to become a member of the Fort Worth City Council in 1975.
Hugh Parmer continued to serve the good people of Fort Worth as a state senator from 1983 to 1991. He sponsored the Texas Omnibus Hunger Relief Act of 1985. This was just the beginning of a long career leading humanitarian efforts around the world.
In 1998, Mr. Parmer became assistant administrator of the U.S. Agency for Internation Development's (USAID's) Bureau for Humanitarian Response in President Bill Clinton's administration. A Democrat, Mr. Parmer was unanimously confirmed for the post by the U.S. Senate – which was controlled by Republicans at that time.
After George W. Bush was elected president in 2000
Mr. Parmer was selected to head up another international humanitarian relief organization, the American Refugee Committee.Mr. Parmer was responsible for major relief efforts around the globe, including Hurrican Mitch in Nicaragua and Honduras. In 2008, he was elected to the board of directors of Interaction, a U.S.-based association of private relief and development organizations.
Born in 1939, Mr. Parmer graduated from Polytechnic High School in Fort Worth in 1957. He earned a Bachelor of Arts degree from Yale University and a master's degree in Political Science from the University of Texas at Arlington.
In later years, Mr. Parmer was an adjunct professor in several area universities, including the University of North Texas in Denton, Texas Christian University in Fort Worth, and Southern Methodist University in Dallas. He offered seminars in humanitarian intervention, international aid, and refugee affairs. Mr. Parmer was also a Certified Attorney Mediator, a position he had held since 2010.
Mr. Parmer's most recent position was President and CEO of New Global Mission
Which he described as "...a neutral, impartial, independent U.S based humanitarian organization dedicated to help strengthening our global community through leadership, education, advocacy, and partnerships around the world." (https://www.linkedin.com/in/hugh-parmer-8088aab/)
Mr. Palmer made friends on both sides of the aisle. "Hugh Parmer was an incredible public servant and philanthropist, who always led with compassion and put Fort Worth first," current Fort Worth Mayor Betsy Price, a Republican, told the Fort Worth Business Press. (https://fortworthbusiness.com/government/hugh-parmer-former-fort-worth-mayor-dies-at-80/) Hugh Parmer was a native son of Fort Worth and passionate humanitarian for people in the United States as well as dozens of countries around the world. He served Fort Worth and the State of Texas with honor and integrity. Our deepest sympathies go out to his wife Evelyn Parmer, his son Travis, his daughter Elizabeth, and his granddaughter Claire.